This Company Just Created the Most Inclusive Line of Chest Binders Yet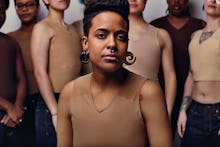 For years now, chest binders, which people commonly use to compress breast tissue, have come in predictable shades of white, black, grey, light peach and sometimes even some wild prints like sparkly mermaid and plaid. 
What's missing from this current mix? Binders that can actually match the skin tones of more than just a few people. So that's why gc2b, a leading online retailer of binders, has decided to change things up. 
Its latest line of binders, called "All Nude," comes in five different shades, spanning from light beige to dark brown. Each of the colors comes in two styles — more of a crop top for $33 and more of a tank top-length for $35 — and are available in sizes XXS to a 5XL, making this possibly the most inclusive line of binders ever to be produced. 
"At gc2b we aim to continue to accommodate and celebrate the vast spectrum of humanity, to always serve and liberate our phenomenal supporters, and as always, to design with the true you in mind," gc2b, who Mic has reached out to for comment, writes on its website. 
Although some designers on Etsy have attempted to create their own more inclusive lines with more shades of nude, such as LeoLines, this is the first time an established and trusted brand has expanded its range. 
Read more: For Transgender Men, Clothing Can Be Self-Determination
Underworks, a binder company that has been around since 1997, still only stocks binders in the current usual array of colors. FLAVNT Streetwear has a line of binding swim tops in five different shades in the works as well, but those haven't yet hit the market. 
It matters that a binder company is already trusted for the simple reason that chest binding can be quite dangerous. "I essentially liken binding to drinking a can of Coke," Jessie Anderson, who is transgender, said in a previous interview. "Is it good for you? No, but you're going to do it anyway."
Chest binding isn't only commonplace for transgender men who are transitioning either — people of all genders who are dissatisfied or uncomfortable with their chests do it as well. 
"I think that chest dysphoria is a lot more common in women than we know," tattoo artist Ciara Gunn, who used to wear binders, said in a previous interview. "So it really helps. It appeals to a very wide demographic." 
"For those folks who have serious body dysmorphia binding is not just about creating the body you want but it's also emotional health," Tiq Milan, who identifies as transgender and has written about binders for Mic previously, said in an email. "To not have a binder in your size or to have to wear layers during the summer because it doesn't match your skin tone is a constant reminder of how one's gender and body doesn't have a place." 
So Gc2b's All Nude line couldn't come at a better time, with summer right around the corner, a time when people are frequently wearing light colors — or going shirtless entirely. If a person with dark skin is wearing a white binder underneath a white shirt, for instance, it's going to show. Same goes for if someone with incredibly light skin is wearing a black binder. And in many situations, that could bring them into harm's way. 
According to the Anti-Violence Project, transgender people are seven times more likely to experience violence from law enforcement. And in 2011, it was reported via a national study that 29% of transgender men had experienced hate violence. 
For such an intimate garment for many people, it matters that binders both look good and help people feel more secure — in more ways than one.