Who Was Frankie Manning? Google Doodle Honors Pioneering American Dancer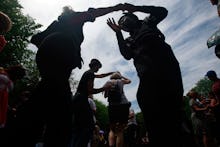 May 26 is the late Frankie Manning's birthday — which means it's a great day to celebrate the American dancer and choreographer with some classy swing dancing, and a fun Google Doodle, of course.
Thursday's Google Doodle honored Manning, who was born in 1914 and died in 2009, for one of the dances for which he's best remembered: the Lindy Hop. According to Manning's bio from the Frankie Manning Foundation, he moved to Harlem with his mother as a child in the early 20th Century (he was born in Jacksonville, Florida), just in time to get caught up in New York City's jazz and swing scene.
In the 1930s and early '40s, Manning was a dancer and choreographer for a traveling dance troupe. He helped spread the Lindy hop, a style of improvisational swing dance, around the world.
"The Lindy Hop and Manning's aerial flourishes became wildly popular, and Manning himself performed the dance in several 40's era movies," according to Google's biography of Manning. "He also served in World War II, toured South America and the UK with his troupe, The Congaroos, performed the Lindy for King George VI, and won a Tony Award for his choreographic work on the Broadway musical Black and Blue."
Manning toured with jazz legends like Ella Fitzgerald, Bill "Bojangles" Robinson, Duke Ellington, Billie Holiday and Count Basie before jazz was edged out by the arrival of rock and roll in the 1950's.
But in the '80s, Manning was rediscovered by a new generation of swing dancers — and by other artists who wanted to honor Manning's place as a culture-shaping black artist. He began to work as a Broadway choreographer, and in 1992, served as a dance consultant for Spike Lee's Malcolm X.
Over the course of his life, Manning was honored with magazine profiles and television specials, and now, on what would have been his 102nd birthday, with his very own Google doodle. 
According to Google, Manning's Google Doodle was featured in the United States and Canada, Russia, and parts of Europe and Asia. 
Dance on, Frankie.
Read more: Drake Just Passed Another Music Milestone That Even Beyoncé Hasn't Reached