A Michigan Strip Club Made a Tasteless Joke on Its Sign and Locals Are Furious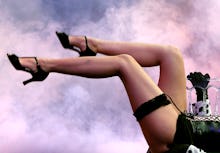 Too soon? 
Seniors at Harrison High School in Harrison, Michigan, graduated on Sunday — and already local businesses are vying for their labor. Or, one is: Miceli's Corner, provider of "the best adult entertainment in northern Michigan," according to its website. 
On Wednesday, the Detroit Free Press reported that the strip club was getting regional attention for the addition of a welcome message to its sign:
"Now hiring class of 2016," it read, alongside Miceli's phone number. 
Some residents believe the sign was directed at the young female high school grads. There is a community college in Harrison, so it's possible that Miceli's was targeting those students, who are more likely to be adults of legal dancing age than are high school seniors, some of whom wouldn't have reached 18 years by graduation. 
"Children fresh out of high school shouldn't be taking their clothes off for money," Harrison resident Lisa Dickerson told WNEM. "I think it's sickening."
According to Click on Detroit, Dickerson isn't alone in her outrage. Many say the strip club shouldn't be luring Harrison's young women into careers as "naughty girls of the north," per its website. Miceli's Corner, meanwhile, seems to think that everyone needs to just relax. 
"In no way were we trying to offend anybody," Miceli's Corner said in a statement, according to WNEM. "The sign was simply a joke."