An Original Copy of the Emancipation Proclamation Just Sold for $2.17 Million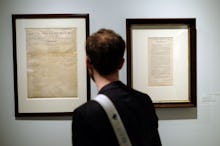 Owning a piece of American history will cost you.
On Wednesday, auctioneers at Sotheby's sold an original copy of the Emancipation Proclamation, signed by President Abraham Lincoln, for $2.17 million to a bidder who called in by phone. 
According to the auction house's Twitter account, they also sold one of three "Senate copies" of the 13th Amendment, also signed by Lincoln, for $2.4 million, as well as a message to Congress penned by Thomas Jefferson. In total, Sotheby's raked in $6.2 million for the historical documents.
ABC News reported that Sotheby's auctioneers had originally estimated that the 13th Amendment, which outlawed slavery in the United States, would sell for $5 million alone. 
Read more: A French Auction House Is Trying to Sell These Sacred Native American Artifacts
"The significance of them is really overwhelming," Sotheby's international senior specialist for books and manuscripts Selby Kiffer told the Huffington Post ahead of Wednesday's auction.
Sotheby's cites 27 authentic copies of the Emancipation Proclamation, seven of which, including the one sold on Wednesday, are owned by private collectors. The other 20 are currently on display in institutions. 
"In terms of historical significance — other than the Declaration of Independence, bill of rights and the constitution — these rare two documents are some of the greatest documents of American history," Kiffer added.