Johnny Depp and Amber Heard, America's Most Notorious Dog Parents, Are Getting a Divorce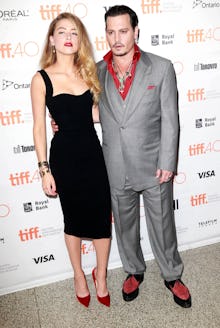 Today in celebrity divorces: Johnny Depp and Amber Heard.
TMZ reports that Heard filed on Monday, citing everyone's favorite divorce term — irreconcilable differences — as the reason behind the split. They were married for 15 months.
As with all divorce news, this is sad. But it's probably especially sad for the couple's Yorkshire Terriers, Pistol and Boo.
The pups were involved in a whole doggy debacle last year when Heard and Depp tried to illegally smuggle them into Australia without a permit. Heard was charged with the "illegal import of animals," and then Australia's Agriculture Minister viciously threatened to euthanize them. The charges were eventually dropped.
Now, as if they haven't been through enough in the past year, their parents are getting a divorce. Our thoughts are with Pistol and Boo during this time.