You've Been Sitting on the Beach Wrong Your Whole Life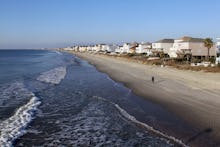 Listening to the waves crash on the shore, smelling the salty breeze, feeling tiny sand daggers in your face. 
One of these sensations does not belong. 
When you're packing up your sunscreen (make sure it's not a tube of deception), sunglasses, snacks, booze, weed, whatever, consider ditching your towel for a fitted sheet. 
Use a few items to anchor down the corners of the fitted sheet to create your own little sand barriers. 
It's also a great way to obstruct your view of the swarms of humans descending upon the beach this Memorial Day weekend. 
Roll up the partition, please.