There's Now a 3-D Printed Office Building in Dubai — And It's Gorgeous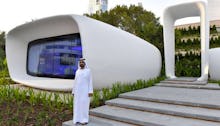 A new 2,700-square-foot office building located just outside the Emirates Towers in Dubai may not look like much to passersby. But this is different from your average office complex in one key way: It was made with a 3-D printer. 
Dubbed "the office of the future," the new 3-D printed structure took 17 days to make and cost half as much to construct as a comparable building made using traditional methods, according to the government of Dubai. This is reportedly the first office building to be 3-D printed, though last year China debuted the world's first 3-D printed apartment building, according to CNET.
The new office will temporarily house the Dubai Future Foundation. The building's shell is made from a mixture of cement and a set of building materials designed and made in the UAE and the United States. A small team of electricians and other specialists outfitted the building with electrical infrastructure.
"We see this project as a case study that will benefit regulators as well as research and development centers at the regional and international levels on real application of 3-D printing technology," said Prime Minister of Dubai, Sheik Mohammed in a statement. "We are documenting this experience and building on it to take advantage of the most important lessons, which will serve as reference points to take this technology to new levels." 
The futuristic work station is part of Dubai's 3-D Printing Strategy, an initiative designed to grow 3-D printing innovation in Dubai through targeted construction, medical and consumer projects.