The Weeknd and Muslim Rapper Belly Cancel 'Jimmy Kimmel' Taping to Protest Donald Trump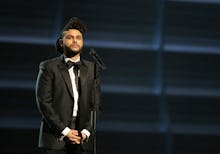 The Weeknd and rapper/producer Belly were scheduled to perform on Wednesday's episode of Jimmy Kimmel Live! However, that meant they would have had to share the stage with another performer who has been traveling across the country with a far more controversial act this past year: presumptive Republican nominee Donald Trump. 
Instead of adding turnt-up musical accompaniment to Trump's interview, the two chose instead to pull out as a way to protest the leader's campaign.
Read more: Listening to 20,000 YG Fans Scream "Fuck Donald Trump" Is Music to the Ears
In a statement shared with the Associated Press, Belly, whose mixtape Another Day in Paradise is set to drop Friday, said he disagrees with the fundamentals of the prospective leader's campaign, most specifically the xenophobic comments the candidate has made about Muslims.
"I'm here on a campaign of positivity and love and to contribute what I can to music," Belly told the AP.
I create songs people go to sleep and wake up to, songs that they fall in love to. For me, being Muslim and being somebody that appreciates my access here in America, I love the fact that I'm able to be here. To play my part in this business is a privilege and a beautiful thing. The fact that I could lose that ability through the actions of someone such as Donald Trump isn't right to me. At all.
Belly and the Weeknd have worked together on several tracks in the past, with Belly landing co-writing credits on The Weeknd's "Earned It," ''The Hills," ''Into the Night" and "Often." They had been planning to play Belly's "Might Not," to which The Weeknd contributes a brooding hook and verse.
"I feel like the way I was raised was to be able to see through all the titles in this world — from religion to race," Belly said. "I just didn't want to feel like I was a part of a celebration for somebody who has beliefs that majority of us don't agree with."
Listen to The Weeknd's and Belly's "Might Not" below.