Hate Muslims? This New Medication Alleviates the Symptoms of Bigotry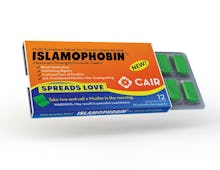 In a satirical public awareness ad, the Council for American Islamic Relations advertised a new medication that helps relieve the symptoms of anti-Muslim bigotry.
"Maximum strength" Islamophobin comes with a warning label — "may result in peaceful coexistence" — and helps treat intolerance, bigotry, fear of Muslims and presidential election scapegoating. So if you think a Muslim kid bringing a homemade clock to school is "suspicious behavior" or are feeling the Drumpfmania, Islamophobin is right for you!
In a minute-long commercial for the fake medication, a white man sees a Muslim neighbor chopping bushes with a sword while yelling "Allah Akbar." Later in the segment, a white couple expecting a child reject an Uber ride to the hospital after realizing the driver's name, "Mo," is short for "Mohammed."
With nearly 16,000 shares on CAIR's Facebook page, the video comes amid an "unprecedented spike in anti-Muslim incidents nationwide," according to a statement released by the organization. The group — America's largest Muslim civil rights organization — attributed the rise of anti-Muslim sentiment in part to the Islamophobic rhetoric spouted by presidential candidates like Donald Trump.
While Islamophobin is an excellent example on how comedy can be used in the service of quashing anti-Muslim bigotry, anti-Muslim bigotry itself is no laughing matter.  Earlier this year, teenagers in New York City beat a man wearing traditional Muslim garb in front of his 9-year-old niece. On Monday, a racist customer verbally harassed and threatened two Muslim women at an ice cream shop. On Wednesday, CAIR filed a lawsuit against a Wisconsin company that fired seven Muslim employees for praying during unscheduled breaks. In the Seattle area, a city manager even proposed a database mapping the locations of Muslim residents and suggested creating an assimilation program for African Muslim immigrants. 
If you're bummed that Islamophobin isn't actually a real medication and had the brilliant thought of sending it to Trump's campaign headquarters, you're in luck! It's for sale on Amazon as a sugar-free chewing gum.