Women at Abortion Clinics Are Being Sent GPS-Activated Anti-Abortion Ads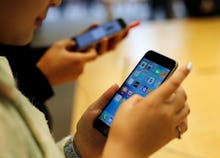 When Roe v. Wade legalized abortion in 1973, it did so on the grounds that the decision to terminate a pregnancy fell under a woman's right to privacy under the 14th amendment. 
It's interesting, then, that Boston-based executive John Flynn's anti-abortion advertising campaign is able to send ads to women in abortion clinics, using geo-tags furnished by smartphones. But, as the Cut reported, it's apparently legal. 
"It is incredibly unethical and creepy," digital marketing expert Brian Solis told Rewire, which originally reported the story. 
Read more: 'Across the Line' Uses Virtual Reality to Put Viewers in Abortion Patients' Shoes
"You can grab an uncomfortable amount of information from someone's device and the apps they use," Solis said — and you can apparently do so unfettered by the law, because regulations surrounding metadata are lax. 
"Mobile geo-fencing" technology allows Flynn's Copley Advertising to see where "abortion-minded" women are, and it allows him to see lists of patients trying to get abortions, including their names and addresses.
"Marketing for pregnancy help centers has always been a needle in a haystack approach—cast a wide net and hope for the best," Jennie VanHorn, regional marketing manager for the adoption agency Bethany Christian Services, told anti-abortion site Live Actions News. 
Copley has sent Bethany's ads to patients at 140 abortion clinics in New York City; St. Louis; Richmond, Virginia; Pittsburgh and Columbus, Ohio. "With geo fencing, we can reach women who we know are looking for or in need of someone to talk to," VanHorn said. 
Women visiting abortion clinics, whether or not they're there to terminate a pregnancy, should turn off their phones, disable their GPS systems or just leave them in the car if they don't want to see Copley's ads. 
"It's unfortunate, but any woman who plans to visit an affected Planned Parenthood, or anyone who works for Planned Parenthood, should be afraid," Solis told Rewire. As if they didn't have enough to deal with already. 
For its part, Planned Parenthood intends to keep patients from Copley's reach. "Our affiliate security and cyber security teams work to ensure that all of our patients experience a safe, nonjudgemental, harassment-free zone at our health centers," Dawn Laguens, executive vice president of Planned Parenthood Federation of America, said in an emailed statement.
"Let me be clear: we will pursue every avenue available to protect our patients from targeted harassment and stigmatization. We are committed to protecting our patients and will take all claims extremely seriously."
May 28, 2016, 12:14 p.m. Eastern: This article has been updated to include an emailed statement from Planned Parenthood.