Teen Pranks Modern Art Museum-goers By Placing Simple Eyeglasses On Floor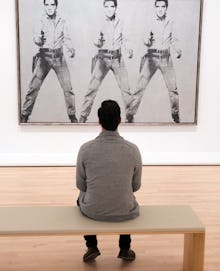 A California teenager's prank that mocked the sometimes confusing art world has gone viral. 
TJ Khayatan and friends had visited the San Francisco Museum of Modern Art, and felt "unsurprised" with some of the pieces of art, Khayatan told Buzzfeed. "We stumbled upon a stuffed animal on a gray blanket and questioned if this was really impressive to some of the nearby people," he said.
So, they decided to leave a pair of eyeglasses on the ground to see if people would think it was a real art sculpture. 
Instantly, people began to gather around and admire the faux exhibit.
The pranksters tried doing the same thing using other objects, like hats, but something about those glasses really spoke to audiences. 
"I can agree that modern art can be a joke sometimes, but art is a way to express our own creativity," he said. 
He added, "At the end of the day, I see it as a pleasure for open-minded people and imaginative minds."
Read more: 10 New Contemporary Artists Challenging Everything We Knew About Art