The Saga of Hong Kong's Vanishing Booksellers Is Heating Up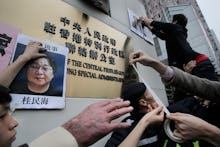 Causeway Bay Books in Hong Kong looks like an uneventful, modest bookstore. It is the last place one might expect to be at the center of an international conspiracy, thought to involve intelligence agents spanning across continents. 
Rumor has it they've ruffled the government of mainland China's feathers by selling literature regarded by the Chinese government as politically subversive. Adding to the speculation are the disappearances of five people since October, all of whom were affiliated with the bookstore. 
On Tuesday, a daughter of one of the missing men appeared before Congress, appealing to the United States government to intervene and demand his return, the Guardian reported.
Read more: Why Do Staffers From This Hong Kong Book Store Keep Disappearing?
Gui Minhai, a Swedish citizen, was in Pattaya, Thailand, when he vanished (this means if the Chinese government is indeed involved, it would have violated the sovereignty of another nation).
Gui owns publishing and distribution company Mighty Current Media, which, in turn, owns Causeway Bay Books. His disappearance happened in October, and in January he suddenly reappeared on China's state-run television station, CCTV, and claimed he'd handed himself over to Chinese authorities because he was connected to a 2003 hit-and-run accident in the mainland, the Guardian reported at the time.
But his family remains deeply suspicious.
"In his so-called confession, my father says he travelled to China voluntarily, but if this is true, then why is there no record of him having left Thailand?" his daughter, Angela Gui, said in front of Congress, according to the Guardian. "Only a state agency, acting coercively and against both international and China's own law could achieve such a disappearance."
A similarly baffling situation occurred with Lee Bo, a Causeway Bay Books shareholder who was reported missing in January. When he finally resurfaced it was via a call to his wife from a number in Shenzhen, China, to say he was helping the Chinese government with an ongoing investigation. 
"Yet police in Hong Kong said they had found no record of him having crossed the border," the Economist reported in January. "Mr. Lee did not take his mainland travel permit, his wife said."
Once a British colony, since 1997 Hong Kong has been a Special Administrative Region of China, but has enjoyed a considerable degree of political autonomy. The allegations against the central government, if true, would suggest a tightening grip and could perhaps be explained as a reflex to an autocracy weakened by generational shifts. 
While speaking to Congress, Gui said her father had contacted her to say she should not publicly discuss his case. 
"Despite having been told to stay quiet, I believe speaking up is the only option I have," she said, according to the Guardian. "I'm convinced my father would have done this for me, were I the one abducted and illegitimately detained."