Olympian Ryan Lochte Wins Medals on a Diet of Chicken Wings and Pizza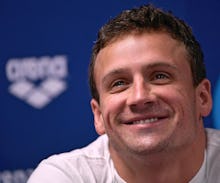 Want to know the secret to walking six-pack Ryan Lochte's Olympic-winning body? 
A diet of pizza, chicken wings and a Mountain Dew every Friday. 
"I've been in training for 22 years and [Friday is] my cheat day," Lochte said Tuesday at an event in Charlotte, the Charlotte Observer reported. "I've been doing it since I was 9 years old. I've only missed it six times." Dedication, after all, is key for shining star Olympians.
Clearly, the tradition is working for the 31-year-old swimmer: He has won not one, but 11 Olympic medals. Glenn Lyman, Lochte's personal chef, jokingly asked Lochte to imagine how many more gold medals he might have won had he "not eaten pizza and wings every Friday for your entire life." But Lochte refuses to give up his weekly indulgence.  
Can you blame the guy? When you've won 11 medals in your life, one more pales in comparison to 52 pizzas a year. After all, you can't exactly eat gold medals. 
Mere mortals can learn something from Lochte's regimented cheat meal, beyond the fact #PizzaIsBae. Recent research has found that people are better able to maintain their weight loss goals when they have indulgences planned into their week.
While wings and pizza don't appear to affect Lochte's ability to swim like a superhuman, there is one food that is his kryptonite: yellow Starbursts. His love for the chewy sugar squares is apparently so deep and strong that his chef has to "hide them from him." 
Lochte's diet is currently void of yellow Starbursts because he is in the midst of preparing for the Summer Olympics in Rio in August. He is, however, consuming about 8,000 calories per day, none of which come from sweetened cereals, spicy foods or ... beans (Lyman said Lochte "will not eat a bean"). 
Whether Lochte places at the Olympics this year is something only time will tell, but he sure gets a gold medal for his heroic diet.