Would a Trump vs. Sanders Debate Be Sexist in Nature? Twitter Seems to Think So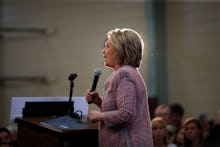 After Donald Trump's Wednesday night appearance on Jimmy Kimmel Live! the internet was awash in rumors that the presumptive Republican nominee will debate Bernie Sanders, who effectively lost his bid for president earlier this month. 
On the show, Trump read a question from Sanders asking if, since Hillary Clinton had turned down his request for a debate ahead of the California primary, Trump would be interested in taking her place. Trump said he's prepared to go head-to-head with Sanders, though sources later told CBS News that Trump was joking and "it will never happen." 
Michael Briggs, a spokesperson for Sanders' campaign, however, stoked the rumors telling USA Today, "Of course we're interested. It was Bernie's suggestion."
But whatever the case, as #BernieTrumpDebate trended on Twitter on Thursday, some users wondered if the very premise of the debate is sexist:
Some pointed out that such a debate would be unprecedented, especially considering Clinton has become her party's presumptive nominee as well:
But amid the noise, one Twitter user imagined a compromise: 
Clinton hasn't publicly addressed the debate rumors, but on Monday her campaign staff made it clear she has bigger fish to fry. 
Spokesperson Jennifer Palmieri told the New York Times, "We believe that Hillary Clinton's time is best spent campaigning and meeting directly with voters across California and preparing for a general election campaign that will ensure the White House remains in Democratic hands."
Read more: Millennials Give Hillary Clinton Only Tepid Support Over Donald Trump