These Inspiring Tweets From a Harvard Law Grad Show the Power of Positive Reinforcement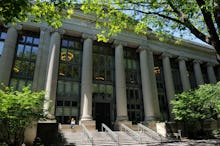 Ready for an incredible story about the power of believing in people? 
A few weeks before graduating from Harvard Law School, Jonathan Wall, he shared an anecdote on Twitter about his grandmother.
Instead of getting mad at her grandson, Grandma did something sort of unexpected.
Maybe that one moment with grandma is what pushed Wall to get not one, but two graduate degrees from Harvard.
Here he is posing with mom: