Check Out the Military's Sexy New Stealth Motorcycles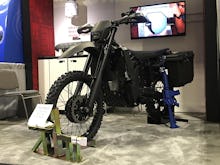 Back in 2014, the Defense Advanced Research Projects Agency gave out grants to build a virtually silent electric bike that could trek far distances without refueling. Now that bike is here.
Logos Technologies and LSA Autonomy showed off their bike prototypes during the National Defense Industrial Association's Special Operations Forces Industry Conference at the Tampa Convention Center this week, Defense One reported. 
Logos' bike is called the Silent Hawk. The hybrid bike runs on multiple types of fuel in addition to a lithium ion electric battery, according to Defense One. The company says the bike could even run on olive oil, though it specifically accommodates for more traditional fuels like JP-8, Jet A-1, gasoline and propane. The Silent Hawk, as the name implies, offers a quiet mode. 
LSA Autonomy has a very similar-looking bike dubbed the Nightmare. The bike weighs a bit more than the Silent Hawk and comes packed with more horse power, reports Defense One.
Logos is currently in the second phase of its bike's development, according to the company.