Reigning 'Jeopardy' Champ Buzzy Cohen Is the Most Hated (or Loved) Man on the Internet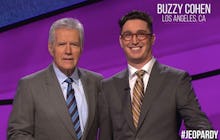 The internet is having a love-hate relationship with Jeopardy's seven-day reigning champ, Buzzy Cohen. 
The arguably adorable father and all-knowing game show contestant, whose real name is Austin, quickly skyrocketed to internet stardom for continuously beating out his competitors with each show — becoming one of the most polarizing game show personalities in recent history. 
Some can't stand the sight of his "smug" face. Others say he's "the millennial the show needs" to keep it relevant in 2016. Regardless, Cohen has gotten the world buzzing about a game show typically left out of Twitter conversations and social news.
The good:
The bad:
The ugly:
He's taken over the game show world by storm, but according to a recent interview with NBC, the dad says he's just having fun with his time in the spotlight and isn't too moved by the polarizing discussion happening online. 
For all of his naysayers attacking him for his looks or unbeatable swiftness with the buzzer, Cohen may be able to tug your heartstrings with his plan for what to do with all the money he's raking in from Jeopardy (at least $133,402 to date): Fund his two-year-old daughter's college education. "Or something mundane like that," he said. 
Buzzy. Gotta love him. 
Read more: Here's What It Really Costs to Get Dressed as a "Bachelor" Contestant