Scientists Find Almost 72-Year-Old Sunken WWII Bomber Containing Remains of Soldiers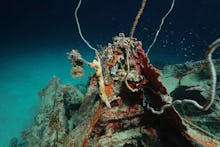 Almost 72 years later, scientists have found a missing World War II TBM-1C Avenger aircraft and the remains of up to 80 military men in the Pacific Ocean nearby the island of Palau. 
The plane first went missing in July 1944. Scientists have been aware of the plane for a few years, first learning of it from interviews with veterans and documents from the National Archives.
Using oceanographic technology, it took researchers from the Scripps Institution of Oceanography at the University of California San Diego two months of scanning the ocean to find the plane.
It was hidden by mangrove trees and coral reefs. 
"We put that on a underwater robot that is like a torpedo and it continuously goes back and forth over the area," researcher Eric Terrill said, according to CNN. "We essentially mow the lawn with this device."
The finding was a part of the 5-year-old Project RECOVER, which seeks to recover the fallen World War II soldiers from the ocean and send them home for a final resting place. 
"But this is more than reconnecting with history; it's about locating the missing to enable the U.S. government to bring them home for a proper burial," Terrill said in a press release. 
The next step will be to identify the soldiers using dental records, dog tags and even DNA, which can still be extracted from the remains.
Read more: Divers Just Discovered a Real 1,600-Year-Old Sunken Treasure