These #BlackSalonProblems Keep It All the Way Real About the Black Hair Experience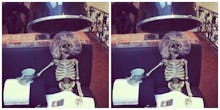 #BlackSalonProblems is trending on Twitter and bringing to life all the most hilarious — and often, most traumatic — experiences at black beauty shops. 
From the long appointments to the hot-as-hell hair dryers to the strategic ways black women sleep to keep that 'do looking good, take a trip to the hair salon via these epic tweets.
The appointment is all set for first thing in the morning, the best timing to — hopefully — ensure a speedy experience...
... And then you're waiting forever.
When you trying to kill time by reading an article on President Obama's inauguration:
When that chemical relaxer starts burning:
When you said, "just trim my ends":
TFW you are in hell:
When you're almost done, but no — not really:
Stylist: What if I tried this hairstyle?
When the final look is revealed:
And you go home and cry about it:
Or when the stylist slays your hair and it needs to look fly tomorrow:
But then the next morning:
And then, wash, rinse and repeat a couple weeks later.