Adele Messed Up the Lyrics to "A Million Years Ago" at Lisbon Concert — and Fans Loved It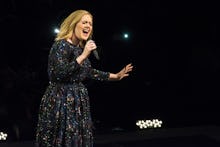 Nobody's perfect, but Adele often seems pretty damn close — her fumbles only serve to make her more endearing, as evidenced by a recent concert in Lisbon, Portugal, during which she seemed to have forgotten the lyrics to one of her songs. The 25 singer began singing "A Million Years Ago," but didn't get very far before cracking up. 
"Shit, wrong words," she said into her microphone. "Shit, shit, shit. I started singing the verse ... sorry." The audience didn't seem to mind, though, laughing along with Adele and applauding her good-natured admission of the mistake. 
According to E!, Adele recently interrupted herself on stage in Manchester, England, announcing that she'd forgotten "the fucking words" to a song she was supposed to be singing. And as the New York Daily News reported, the singer put a halt on a performance of "Rolling in the Deep," saying, "Oh shit, fuck, stop. I did the wrong words. Let's do it again."  
Adele's down-to-earth, real-human vibe may be what makes her so damn lovable in the first place. That and her powerful pipes.
Adele is currently on the European leg of her much-anticipated world tour. Next stop: Verona, Italy on May 28. 
Read more: Here's the Reason Good Music Gives You Chills