YouTube Star's Dad Confesses He Considered Suicide After Son Came Out as Gay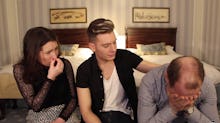 Gay Irish YouTube star Riyadh K has featured his parents in several funny clips in the past — in one video, his mom read his Grindr messages. But an episode he uploaded on Monday took a serious turn. 
While discussing Riyadh coming out to his parents, his father, Sam, confessed he considered suicide after reading a note Riyadh handed him revealing his sexual orientation. 
"I actually got up that night at... after you all went to sleep, I think about 3 or 4 o'clock in the morning ... and I was looking for a tablet to commit suicide," he said. "That's why I say it was so stupid."
Though Riyadh's father never specified why he thought of committing suicide, Riyadh speculated it was because of a "few fucking dickheads with opinions that you were afraid of." 
Sam described his feelings after reading his son's letter.
"I just read it and I was like, waiting to sink in," Sam said. "It was just confusing, because something just hits you like, bang! And you're not really expecting it, and you'll be thinking of what to do... and the family..."
Both Riyadh and his mother, Lorraine, comfort Sam after his confession. 
"Isn't it great that you're being so honest?" Lorraine says. 
"And look at you now, you're the best dad in the fucking world and I love you so much," Riyadh adds.
While fear, stigma and shame may prevent LGBTQ youth from coming out, Riyadh's video highlights the effects that a child coming out can have on parents. For parents who may be looking for support, organizations like PFLAG have chapters throughout the United States.