You Haven't Lived Until You've Grilled a Donut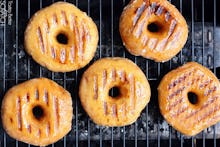 New weather rule: Sun's out, grills out. 
What's one surefire way to level up your grill game and impress the pants off your guests? Throw some donuts on the grill and watch everyone's eyes glaze over in anticipation as the breakfast treats puff and char, becoming toasty pillows of perfection. 
It'll become the pièce de résistance of your barbecue. And it couldn't be easier. 
Here's how to grill your own donuts. 
1. Buy a dozen fresh glazed donuts, or make your own with this simple recipe. 
2. Cut the donuts in half, like you would a bagel. 
3. Put donuts cut-side down on a hot grill for around 30 seconds. Watch carefully and flip to the other side before they get too charred. 
4. Remove and serve warm on a plate. (Ice cream is optional, but encouraged.)  
Blogger Lauren Allen of Tastes Better from Scratch suggests nabbing a dozen Krispy Kremes to get the job done, but if you're hoping to add a little more color to the plate, find some inspiration from the photos below. Ice cream, fresh berries, donut-turned-egg-sandwich or just a shot of whipped cream — you really can do no wrong here.