'The Force Awakens' Soundtrack Vinyl Does Something Mindblowing When You Play It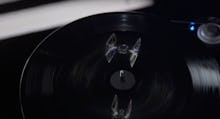 The Star Wars franchise has exploded into film, toys, apparel and theme parks. And now, the force is adding another product to the list: vinyls. A new record with music from the original soundtrack by John Williams — with a futuristic catch — has fans spinning:
When the album begins playing, a millennium falcon and a TIE fighter appear floating above the right side of the album. The display is comprised of 3-D holograms etched onto the soundtrack, a move marketing and product management director Paulo DaCosta describes in a YouTube video as pure Star Wars innovation:
"In the world of Star Wars, we said, 'Oh my goodness, we could do something fantastic.'" The album is currently available for preorder through Disney's Music Emporium, and is set for release June 17th.
The vinyl is two LPs in one, with the Millennium Falcon featured on one side and the fighter carved onto the other. Though it seems like it's a feat only the masterminds behind Star Wars are capable of, Jack White's Lazaretto vinyl featured its own hologram art, created by the same artist who worked on Star Wars'. 
Star Wars fans and vinyl aficionados: May the holographic force be with you.
Read more: Columbia House Is Relaunching With a New Focus on Vinyl