Scripps National Spelling Bee 2016: Live Stream and Viewing Info for Competition Finale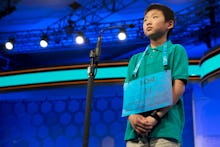 An event for sesquipedalians and their fans kicked off Thursday at the Gaylord National Resort and Convention Center in National Harbor, Maryland as the world tuned in to watch the beginning of the final round of the 89th Annual Scripps National Spelling Bee. 
The event is being broadcast live on ESPN2 at 10:00 a.m ET and will conclude in a final dramatic event at 8:00 p.m. ET on ESPN. Fans will also be able to watch a live stream on ESPN's website.
Read more: These Spelling Bee Champions Can Teach Us an Important Lesson About Race in America
Competition for the top prize has been ferocious, with contestants in preliminary rounds Wednesday, spelling "anadiplosis," meaning to repeat an important word, "pyrophyte," a plant known for its resistance to fire and "sciuromorph," or a collection of rodents. Of 284 spellers Wednesday morning, only 45 proceeded to the finals on Thursday. 
The last speller standing will receive a $40,000 prize, as well as a kingly trophy from Scripps, a $2,500 Savings Bond From Merriam-Webster, $400 of reference material from Encyclopædia Britannica and a trip to New York City to appear on LIVE with Kelly. 
Though it has become a major media spectacle with words of Shakespearean complexity, the original bee, which began in 1925, was a considerably more subdued affair with words that most people today could not only spell, but use in their own daily speech. 
In 1932, Dorothy Greenwald claimed the top prize by spelling the word "knack." Laurel Kuykendall ran away with the contest in 1940 with the word "therapy," and Blake Giddens won in 1983 with the Jewish holiday "Purim."
Recent winning words like "knaidel," "feuilleton" and "stichomythia," however, have been of a distinctly more obscure variety and competition for the top prize has led to some dramatic moments in recent contests. 
In 2009, Andrew Lay raised more than a few awkward eyebrows with a tortured and extended spelling of the word "negus" — which he ultimately spelled correctly. In 2004, Akshay Buddiga literally fainted at the sound of his word, "alopecoid," before he regained composure and ultimately spelled it correctly.