The Dildo Hoverboard Is an Explosive Glimpse Into Our NSFW Future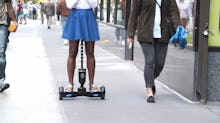 Plenty of people f*cking hate hoverboards. Do they hate f*cking hoverboards? The internet's about to find out. 
The dildo hoverboard comedy video debuted on YouTube this week and quickly went viral. It's exactly what it sounds like — a hoverboard you can ride while simultaneously being penetrated by a dildo. Sure, it's just a stunt — no one's actually producing dildo hoverboards for popular use — but as hoverboard fanaticism reaches a fever pitch, who knows where the future will take us.
"As a busy millennial, I struggle to find time for myself," comedian Sydnee Washington said in the YouTube video. "Multitasking is a part of my every day life. The dildo hoverboard allows me to squeeze in that much needed pleasure time."
She adds that it is fully adjustable and equipped with a control panel that lets you choose your preferred thrusting speed and rhythmic vibration.
"But it's not just about multitasking," Washington said in the video. "It's about making your commute to work a lot more fun."
Before you get your panties in a bunch, it's worth noting that the dildo hoverboard is fake. It isn't commercially available. It is yet another dildo-fied device from whoisthebaldguy, who also blessed us with a dildo selfie stick and a dildo drone. 
If you are in the market for a sex toy that goes above and beyond, some real-life options include Nora or Little Bird. 
This is not the future Ted Cruz asked for. But he may be in the minority.