Here's How Long It Would Take 2016 Grads to Make Up the Cost of Commencement Speakers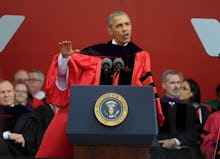 Every year, colleges across the United States engage in a silent arms race to nab the most esteemed speaker for their graduation ceremonies. And some institutions are willing to pay big to top the perennial lists of best commencement speakers (and avoid bottoming out with the worst). 
According to the Associated Press, the graduates at the University of Houston, for one, enjoyed Scott Kelly, who recently returned from a year in space and whose speaking fee of $35,000 was similarly astronomical — but not atypical. Rutgers University shelled out the same price for Bill Moyers this year, while Kean University paid $40,000 to each of its reported two speakers, one of whom was Humans of New York's Brandon Stanton. 
Meanwhile, another prominent statistic in the same price range looms: average student debt. 
As the last of the Class of 2016 grads move their tassels to the other side, they'll enter the so-called real world with the most debt out of any class before them, an average of $37,000 per person.
If students were to pay back their commencement speaker as though it were a student loan payment, here's what would happen, according to FinAid.org's loan calculator:
At an interest rate of 6.8% (the 2015-2016 standard if your parents are helping you out), a student would have to make 119 monthly payments of $425.80, with one final payment of $425.32, to dig themselves out of a $37,000 hole.
It would take them 10 years. 
Michael Frick, CEO of Speaking.com, told the AP, "To the outside world, somebody giving a speech and getting paid $40,000 for one hour seems ridiculous. But in our industry, it's just capitalism and supply and demand." 
For the record, commencement addresses rarely span an hour. In a Washington Post column from 2011, writer Jenna Johnson's No. 2 tip is to "keep it short. Very short." She recalls a 2010 speech from Michelle Obama that crept up on 30 minutes, writing, "students sitting near me started unzipping their gowns and checking their cellphones. Remember, even interesting speakers can speak for too long."
A writer for GradImages.com has also written on commencement speech "best practices," citing a ceremony at a "major university," which included just a 15-minute address from the unnamed guest speaker, "much of which was devoted to his political initiatives."
If the speaker pocketed $37,000, he made roughly $2,466 a minute. Matthew McConaughy, by comparison, would have made $3,000 a minute for his 45-minute address to the University of Houston, which paid the actor a hefty sum of $135,000 — likely a stunning figure to students staring into (at least) a decade-long abyss of phone calls from Sallie Mae. 
Some are sympathetic to students' plights. Gary Roberts, president of Illinois' Bradley University, told the AP, "I can think of a lot of things to do with that kind of money that would be more valuable to our students."
Read more: Here's the Law That Could Erase Student Loan Debt for College Students Across America