This Quote From Jazz Legend Miles Davis Should Be Required Reading for Every Young Artist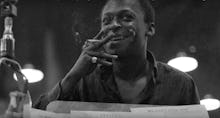 To celebrate Miles Davis' 90th birthday Thursday, infographics publication Polygraph shared a project attempting to measure the scope of the artist's impact using Wikipedia. They found that his name appears in over 2,450 articles, in entries on music theory terms like "harmonization," articles discussing his spiritual progenies like Kendrick Lamar and Lana Del Rey, and in the "notable usage" section of the article for "Motherfucker." 
Read more: Miles Davis Anointed Three Artists as the Future of Music — Here's What Happened to Them
The scope is truly vast, but it shouldn't be surprising for anyone who's familiar with him. As Miles Davis once told a politician's wife as she tried to belittle his art form, he really did "[change] music five or six times." He knew how to keep his music fresh and he wasn't shy about revealing exactly how he went about doing so. Just before he died, he left an instruction manual for all artists in the form of his autobiography. One quote from the book's final chapter sums up a ton of it, with the Prince of Darkness' disarmingly classy vulgarity.
If anybody wants to keep creating they have to be about change. Living is an adventure and a challenge. When people come up to me and ask me to play something like 'My Funny Valentine,' some old thing that I might have done when they were fucking this special girl and the music might have made them both feel good, I can understand that. But I tell them to go buy the record. I'm not there in that place any longer and I have to live for what is best for me and not what's best for them.
To the chagrin of his critics and his audiences at times, Miles Davis never stayed still over the course of his life. He continued to study music late into his life, seeking new sounds and new styles. When Jimi Hendrix stepped on the scene, Davis saw something truly magical within the bluesman's fingers, and later in Prince.
He studied Hendrix's music, traded ideas with him and jammed with him (recording several of their sessions, which, if ever found, would be a bootlegger's wet dream). He went as far as actually getting his haircut from the same barber as Jimi Hendrix to fully live this vanguard life. As a result, his music mutated from his stately Second Great Quintet albums to Bitches Brew and On the Corner — landmarks in fusion, the latter a forerunner to the hip-hop revolution still to come.
Davis surrounded himself with hungry, young musicians, individuals that hadn't yet gotten locked into a set mode of performing and had no obligations to a fan or critic base. He remained a student of music, never content to assume that he would be able to simply access more genius naturally.
"Miles was a searcher, an innovator," Don Cheadle, director of the recent Davis biopic Miles Ahead, told the New York Times. "If he was alive today, he'd be working with Kendrick Lamar or DJ Skrillex or Kanye. So that's the highest hope for this — to move it forward."
Many of today's most enduring musical minds have already drawn lessons from Davis' example. Kanye West, a dedicated student in the school of Miles Davis, is approaching the latter half of his life. Yet his music has not eased off the throttle. He's continued to study new sounds and techniques, getting down in the trenches with young marvels like Chance the Rapper, Hudson Mohawke and Young Thug. 
There are a ton of artists on the border of legend right now — Frank Ocean, Lady Gaga, James Blake — still working to prove their longevity. Every young artist aiming to remain in the conversation for longer than one or two tossed off hits needs to study Davis' legacy. Davis has been at the center of it for forty years and counting, and likely will be until music dies altogether.