There's Another Kim Kardashian Lookalike — And This Is Starting to Get Really Bizarre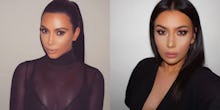 Kim Kardashian West's social media following and perfectly lit selfies have become a profitable source of revenue for her. Thanks to her incredible and unprecedented success in connecting with her fans by showing off her beauty routine, applying makeup and selling ads to brands, some fortunate women who look just like her are taking advantage of the limelight. 
Jelena Peric, a Croatian model with over 700,000 Instagram followers could be called Kardashian West's doppleganger without any debate. Her social media profile is equally relatable to Kardashian West's: She shares "candid" photos of her casual strolls through international cities in designer heels and custom outfits, along with tutorials on her various makeup looks and promotional photos showing off beauty products. 
Both have an affinity for vanity lighting, traveling and glamour shots. 
Unlike Kamilla Osman, another Kardashian West lookalike who ended up meeting the celebrity, Peric said she's "not trying" to look like Kardashian West. In a post acknowledging the viral fame she's received since people picked up on her striking resemblance, Peric told her followers she'd like to create her own brand. 
"I know that there's a lot of comparisons going on in here but that's not what's most important," Peric captioned multiple screenshots of articles comparing her to Kardashian West. "I'm flattered to be compared with someone like KK but on the other hand I would like to stay Jelena and nothing else."
Meanwhile, Kardashian West is being investigated by the Iranian government for allegedly being an Instagram spy hell-bent on corrupting the minds of innocent women throughout the country with her selfies and beauty tips. It's an erroneous accusation, though there might be some validity to the fact some women would love to look (and live) just like Kardashian West, as proven by Peric and those who are sure to surface to the limelight soon enough.
Read more: Kim Kardashian Met Her Look-Alike Kamilla Osman and It's Pretty Creepy