The 4 Most Outlandish Things Donald Trump Said at His Victory-Lap News Conference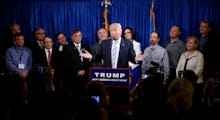 Donald Trump officially clinched the Republican presidential nomination Thursday, and promptly took a victory lap during a news conference in North Dakota filled with the businessman's signature bluster.
Cable news stations were so excited for the event that they aired images of Trump's empty podium as they awaited his arrival — even as likely Democratic nominee Hillary Clinton was giving a speech at the same time.
Read more: It's Official: Donald Trump Just Clinched the Republican Presidential Nomination
Trump didn't disappoint.
Throughout the roughly 40-minute-long news conference, he rambled on about everything from killing eagles to debating Sen. Bernie Sanders.
Here are the four most memorable moments from Trump's news conference.
Debating Sanders is a "dream"
Trump ignited a firestorm Wednesday night, when he told Jimmy Kimmel he'd be willing to debate Sanders ahead of the California primary on June 7.
And despite earlier reports that he was "kidding" about the debate, Trump said he is still open to a face-off with the Vermont Senator.
"I'd love to debate Bernie. He's a dream," Trump said.
Trump said, however, he'd only agree to debate if he could raise $10 million to $15 million for charity — a high bar.
"I love the farmers"
Trump added another interest group to his list of constituencies he loves.
"We are in North Dakota, I have to say this, I love the farmers, and the farmers are incredible," Trump said. "We have to remember this was largely a farm state."
"Pocahontas"
When asked a question about Sen. Elizabeth Warren's Twitter rants against Trump, the presumptive GOP nominee went on to call her "Pocahontas," a reference to her disputed claims of Native American ancestry.
"Pocahontas? Elizabeth Warren? She tweets a lot about me," Trump said, before adding that, "She is a Senator that is highly overrated, she's passed very little legislation, she's been a real disaster about a lot of people, including the Democrats, who frankly really can't stand her."
After the event, a Native American blogger called Trump's nickname for Warren "offensive."
"Wind is killing all of the eagles"
Trump's news conference preceded an energy policy speech Trump was set to give Thursday afternoon. And he previewed his feelings on wind energy, which he said is "killing all of the eagles."
"Shooting an eagle, they want to put you in jail for five years, and yet the windmills are killing hundreds and hundreds of eagles, one of the most beautiful, one of the most treasured birds, and killing them by the hundreds and nothing happens," Trump said.