Starbucks Just Released Nitro Cold Brew — A Frothy, Chilled Coffee Served on Tap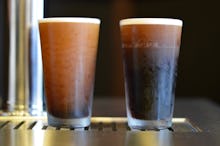 Starbucks, America's foremost purveyor of milkshakes disguised as coffee drinks, is turning to the periodic table of elements for its newest menu item: Nitro Cold Brew. 
While "nitro" sounds more at home on the set of The Fast & The Furious then it does in a cup, the word is short for nitrogen, the chemical element that gives the coffee a velveteen texture. 
Starbucks plans to introduce its Nitro Cold Brew to more than 500 of its stores across the country by the end of the summer, a company spokesperson said in an email. The first 500 stores to get the menu makeover are located in major cities like New York, Chicago, Los Angeles, Seattle, San Francisco and Boston. The move will make Starbucks the largest retailer of nitro coffee in the nation. Starbucks plans to eventually roll out the drink — which requires the installation of nitrogen kegs — to stores nationwide.
Here's the deal with nitro
Nitro coffee is unique because it's served on tap, like a beer. The coffee, which is typically made with cold brew, is "treated with nitrogen under high pressure and then it is chilled in a keg and served on draught," Bon Appétit noted. The result is an incredibly creamy coffee with a foamy head, giving the  beverage a Guinness-like appearance. 
Although nitro coffee is carbonated, it doesn't taste like a coffee-infused seltzer. Nitrogen bubbles are smaller than the carbon dioxide bubbles that carbonate soda, the Starbucks spokesperson said. And because the bubbles are smaller, the coffee is a smooth, non-fizzy drink that requires zero milk to achieve its silky texture. Better yet, because the coffee is pre-chilled, the drink doesn't need any ice. This means it won't get watered down like a standard iced coffee is wont to do (hallelujah!). 
While Starbucks is just beginning its nitro coffee journey, the method can be traced back as far 2012. Mike McKim, the founder of Austin's Cuvée coffee told Eater that he was the first to serve the specialty drink. 
The trend has been spreading like a caffeinated wildfire ever since, and is now available at a number of speciality coffee shops like Stumptown and Brooklyn Roasting Company. A number of companies, including Stumptown and Cuvée, are selling canned versions of their nitro cold brews, too. 
How Starbucks' compares to the rest
Mic taste-tested Starbucks' Nitro Cold Brew a found that, even without milk or sugar, the flavor is mild and smooth — adding either only enhances the drink. The beverage is pretty chuggable, too, which could be dangerous considering its caffeine content. 
Cold brew is already much stronger than iced coffee, and some claim that the nitrogen could be responsible for "increased absorption rates," meaning the buzz will hit more quickly, Bon Appétit reported. So consider being mindful of the fact that it's possible to get a little too wired a little too fast, and sip Nitro Cold Brew like a fine wine rather than a cheap can of beer. (Just because it looks like beer, doesn't mean it should be consumed like beer.)