Antibiotic-Resistant Superbugs Are Here With New Case in Pennsylvania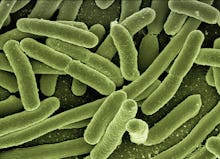 The superbugs are here. The first United States case of a bacterial infection resistant to the "last resort" antibiotic, colistin, arrived within a 48-year-old woman from Pennsylvania, the BBC and others reported Friday. 
Read more: Science Says Super Bacteria Coming to Kill Us Is Imminent, "People Will Die"
The woman recovered as the bug was vulnerable to other treatments, according to the BBC, but the failure of colistin serves as both a turning point in the fight against antibiotic resistance and a cause for great concern among health officials — that their toolkit for combating infection may soon be empty. 
"The more we look at drug resistance, the more concerned we are," Thomas Frieden, the director of the Centers for Disease Control and Prevention, told the BBC. "The medicine cabinet is empty for some patients. It is the end of the road for antibiotics unless we act urgently."
Scientists have long known about antibiotic resistance, often issuing dire pronouncements about the effects of too much antibiotic use. In 2015, when colistin-resistant bacteria were first found in Chinese pigs, Liz Tayler of the World Health Organization sounded the alarm, telling BBC4 Radio, "Some people will have untreatable infections and will start to die," and that "it can spread very easily between species," Mic reported at the time.
Earlier in May, a report from the United Kingdom-commissioned Review on Antimicrobial Resistance found that unless billions of dollars are invested to fight the problem, antibiotic-resistant infections could kill someone around the world every three seconds. 
Already in the U.S., infections from Methicillin-resistant Staphylococcus aureus — or MRSA, another bug that has become almost impossible to kill with traditional antibiotics — are on the rise, according to data from 2012. More than 11,000 people die of MRSA in the U.S. every year, as of 2011, the CDC reported in 2014.