Bernie Sanders Lays Out What a Debate with Donald Trump Would Look Like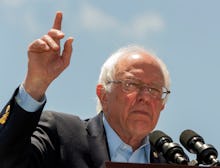 Sen. Bernie Sanders remains optimistic he'll face off with presumptive Republican presidential nominee Donald Trump in a debate ahead of the June 7 California primary, thanking late night TV host Jimmy Kimmel for setting up the potential matchup.
"You made it possible for us to have a very interesting debate about two guys who look at the world very, very differently," Sanders told Kimmel on Thursday night during an appearance on ABC's Jimmy Kimmel Live!
The possibility for the debate first came up during Trump's appearance Wednesday night on Kimmel's show. Trump told Kimmel he'd be willing to debate Sanders — if the proceeds from the event went to charity.
Later reports said Trump was "kidding" about the debate. And there have been no details released about the potential face-off — which must take place in the next nine days ahead of the primary.
Many have wondered whether Sanders would use the opportunity to gang up on Hillary Clinton — who holds a wide delegate lead and is nearly guaranteed to be the nominee.
But during a campaign rally Thursday in Ventura, California, Sanders previewed his line of attack — which focused solely on Trump.
"We're going to ask him why he thinks climate change is a hoax when the scientific community is almost unanimous that climate change is causing devastating problems," Sanders told the crowd of nearly 10,000.
Sanders added he also wants to ask Trump, "Why he thinks that in a nation where our diversity is our strength he thinks it is appropriate to be insulting Mexicans and Latinos."