Brazil Is Gripped by Outrage After a Video of a Teen Getting Gang Raped Circulated Online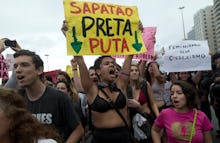 An online video apparently showing 33 men gang raping a 16-year-old girl in Rio de Janeiro, Brazil, circulated on social media, after one of the attackers posted it to Twitter. Now the police are searching for the attackers.
For many Brazilians, the incident points to the country's epidemic of sexual violence against women. 
The video shows the girl regaining consciousness, accompanied by the caption, "Pounded the girl — get it? Hahaha," the Globe and Mail reports. Another alleged attacker reportedly posted a picture of himself next to the teenager's genitals, saying "Rio state opens a new tunnel for the speed train."
According to the BBC, the victim told police she went to her boyfriend's house on Saturday, where she was drugged, waking up at another location with the rapists on Sunday. 
#EstuproNuncaMais — in English, #RapeNeverAgain — began trending in Brazil, uniting a social media backlash to the violent incident. 
One viral post, which was retweeted more than 8,000 times, translates from Portuguese as "the victim is never at fault." In the tweet, a protester holds a sign that reads "Don't teach women how not to be raped. Teach men not to rape."
In November, hundreds of people took to the streets of Rio for the country's annual SlutWalk, calling for the end of victim blaming and ramped up protection of women's rights.
Examining attitudes toward sexual violence in Brazil has unearthed some disturbing trends. A partnered study in 2014 between the Institute for Applied Economic Research and the United Nations Women's Brazil branch discovered that almost two-thirds of respondents thought a woman dressed provocatively deserves to be raped, reported Al Jazeera. Even more sinister is that 65% of respondents were female.