Stunning Portraits of Muslim Women Shatter All Those Hateful Stereotypes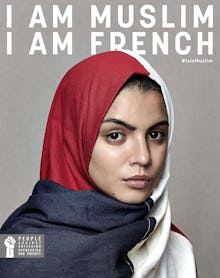 With comments from prominent figures like presidential candidate Donald Trump suggesting Muslims should be temporarily banned from entering the United States, Islamophobia is a permeating societal issue. In light of this, one South Africa-based group is fighting the perpetuating stereotypes with an inherently simple message: Muslims aren't just Muslim — they're also American, French, English and German, among other nationalities. 
In April, the digital marketing agency NativeVML teamed up with the People Against Suffering Oppression and Poverty — which aims to fight for the rights of immigrants, refugees and asylum-seekers in South Africa — for an #IamMuslim social media campaign. The five-photo series featured women from several countries draping themselves in the colors of their countries' flag, worn in the form of a hijab. 
"Juxtaposing these two symbols creates such a strong impact and challenges the assumptions people have about Muslim identity," PASSOP's office administrator Tendai Bhiza said, in an interview with Design Indaba.
Ultimately, the hope of the campaign is to inspire similar images from other countries — all the more important against the backdrop of increased Islamophobia around the world.    
"In this era of divisive rhetoric and rampant hate speech online, we need unifying images like these now more than ever," Ryan McManus, executive creative director of Native VML, told Design Indaba. 
Read more: Islamophobia Is an Epic Waste of Time and Energy and This Graph Shows Exactly Why