Michelle Obama Tells Native Americans to Take Pride in Their Values in High School Address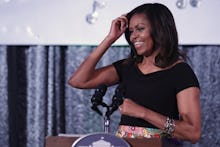 On Thursday, first lady Michelle Obama spent part of her commencement speech at New Mexico's Santa Fe Indian School addressing Native American students. In her speech, Obama said they should be proud of their heritage and stay true to their values. 
Obama also called out public figures whose rhetoric has only further marginalized fringe communities, though she declined to mention Republican presidential candidate Donald Trump by name. 
Read more: Millions of Americans Have Nothing to Celebrate on the Fourth of July
"Some of the loudest voices in our national conversation are saying things that go against every single one of the values that you've been living at this school," she said, the Associated Press reported. "They're telling us that we should disrespect others because of who they are or where they come from or how they worship." The commencement took place amid trappings of traditional Native American culture. Students wore tribal dress and Obama spoke on a stage bedecked in drums, textiles and baskets from local tribes. 
Obama's decision to speak at a Native American university comes as the White House has made a concerted effort to reach out to the community. In 2014, President Obama oversaw the confirmation of Diane Humetewa, the first Native American woman ever elevated to the federal bench and his Generation Indigenous initiative has committed itself to "cultivate the next generation of Native leaders." 
Santa Fe Indian School has a long history in the United States. Founded in 1890, more than 20 years before New Mexico became a state, it has long served as a place of instruction for the indigenous U.S. population. In previous eras, that instruction often took the form of forced boarding school for young Native Americans where speaking their language and expressing their traditional culture were forbidden.
Today, students freely learn their tribal languages, as well as cultural traditions and larger issues facing Native American society.
The past, however, was not lost on Obama. "As we all know, this school was founded as part of a deliberate, systematic effort to extinguish your cultures — to literally annihilate who you were and what you believed in," she said, the AP reported. "But today, the native languages that were once strictly forbidden here now echo through the hallways and in your dorm room conversations at night."