Obama Issues a Forceful Challenge to the World During Historic Hiroshima Visit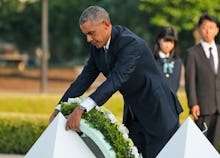 President Barack Obama called for a world without nuclear weapons Friday during a visit to Hiroshima, Japan, the site of the deadly World War II bombing that remains the only use of nuclear warfare in history.
"We may not be able to eliminate man's capacity to do evil, so nations and the alliances that we form must possess the means to defend ourselves," Obama said during a wreath-laying ceremony at Peace Park. "But among those nations like my own that hold nuclear stockpiles, we must have the courage to escape the logic of fear and pursue a world without them."
Read more: Obama Will Visit Hiroshima, But Here's Why He Won't Apologize for the Atomic Bomb
Obama, who became the first sitting U.S. president to visit the site of the bombing, stopped short of apologizing for the attack.
But he expressed sorrow for the suffering of those impacted by the blast, and urged the world not to "repeat the mistakes of the past."
"Mere words cannot give voice to such suffering," Obama said. "But we have a shared responsibility to look directly into the eye of history and ask what we must do differently to curb such suffering again."
Hundreds lined the streets to watch Obama's motorcade enter the park, where he spoke to Japanese dignitaries and officials.
Obama has made nuclear nonproliferation one of the goals of his presidency. In 2009, a few months after taking office, he called for a world without nukes during a speech in Prague, the capital of the Czech Republic.
With less than a year remaining in the White House, Obama chose a historic site to continue pushing for that goal.
"We have known the agony of war," Obama wrote in a guest book at the memorial's visitors center. "Let us now find the courage, together, to spread peace and pursue a world without nuclear weapons."