Fitness Model Anna Victoria's Pre-Wedding Selfie Exposes the Power of a Good Angle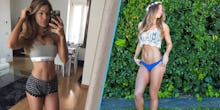 Fitness star Anna Victoria's Instagram is filled with everything you'd expect. There are shots of her abs and selfies of her flexing; there's workout videos and there's pictures of her posing casually in front of a stand of fruit. With 1 million followers, she's clearly giving the people what they want. 
But earlier this week, she got extra real. On her Snapchat, she revealed that although she may look perfectly toned, she doesn't always look that way, and after a fan suggested she post the picture on Instagram, she did just that. 
In an Instagram post, she showed yet another impressive selfie from her wedding day, but then right beside it displayed a picture of her that very same day but sitting down, revealing just a few (perfectly normal and healthy) stomach rolls. 
"Picture on the left was taken one day before the wedding and the picture on the right was taken... 2 minutes after!" she wrote in the caption. "Someone recently said to me that we all have our good angles and we all have our bad angles, so why do we let our bad angles carry so much more weight than our good angles?
"If you focus on how bad you look in the bad angles, at least focus on how good you look in the good ones too!!"
Read more: This Instagram Account Reveals the Truth About "Before" And "After" Photos
The takeaway here? Don't be fooled by all the right angles. But also, don't stress about the bad ones because pretty much everyone has them (except for maybe Rihanna). 
In an interview with Cosmopolitan, Victoria elaborated on her decision to post the pic. 
"I knew that my wedding body was in the best shape I had ever been in," she said. "I wanted to further reiterate that when you sit down, it's normal to have rolls, even if you have a very low body fat percentage. I wanted to show that it's OK for your body to look different from various angles. Everyone has bad angles, but that's not what defines us." 
Victoria's picture and statement comes at a time when more and more beauty and fashion and fitness bloggers are revealing the little tricks of the trade, so as not to fool their loyal following. In November, Huda Kattan, a beauty blogger with more than 13.5 million followers on Instagram, revealed that she uses FaceTune and plenty of filters to get those perfect selfies. In February, a fitness blogger named Jess who uses the Instagram handle @PlankingForPizza got real about the bullshit behind before and after photos, explaining that it all really just has to do with posing. 
"As much as it pains me to showcase these, it also proves that my body isn't perfect and that I still have work to do and fat to lose," she wrote on Instagram. 
And back in June, fitness blogger Sophie Kay went off on the #fitspo hashtag, breaking down many of the tips and tricks Jess also wrote about. "All I did in the 3 minutes between the two photos was to turn off the overhead light, put on underwear that fit better, twist my body slightly to the side to show off my best angle, flex and, of course, add a filter," she wrote in a blog post. 
Even if a body like Victoria's seems totally unimaginable and unattainable to you, there's no doubting how refreshing it is for a woman like her to get real about what a totally normal human body really looks like.