UK Mom Whose Son Dressed as Elsa From 'Frozen' Shuts Down Stranger Who Shamed Him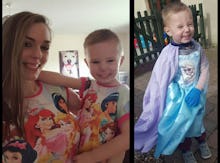 There's no shame in loving princesses for this 3-year-old boy and his mom.
On May 20, U.K. mom Haylee Bazen posted a response to a woman on Facebook who made derogatory comments toward her son Zackary. While she did not include the exact comments, she said the woman had a problem with his dress — he was dressed as Frozen's Queen Elsa and wanted to sing "Let It Go" for Show and Tell. 
"I am NOT sorry you didn't like how he was dressed nor am I sorry that you didn't like our discussion topic of who our favorite Disney Princess is (Snow White obviously)," the woman wrote in the powerful Facebook post. 
Bazen asserted that Zackary doesn't understand gender stereotypes and why he has to conform to them. She also listed with pride the many gender-defying activities Zackary participates in. 
"He plays with cars and dolls, princesses and pirates," she wrote. "He rides his scooter or pushes his pram. He wears zombie face painting or lip stick and if he choose to wear a dress he can!!" 
Bazen asked that, next time the woman sees them out and about, she keep her disapproving stares to herself and just go about her day. 
"You're the one that should be embarrassed to leave the house not us!!" she wrote at the end of the post. 
Bazen's instinct to defend her son is not only great parenting, but it's also good for her son's mental health. A 2014 study conducted at University of Warwick's Centre for the Study of Women and Gender concluded that raising children with "fixed ideas about what should be considered 'masculine' and 'feminine,' can actually be detrimental to their physical and mental health," ThinkProgress reported. 
Thankfully, when it comes to gender roles, Zackary has just learned to ... well, let it go.