Scripps Spelling Bee 2016 Winners: Meet the Finalists (Yes, Two) Who Took Home the Prize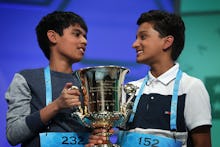 On Thursday night, the 89th annual Scripps National Spelling Bee crowned two winners for the third year in a row; 11-year-old Nihar Saireddy Janga and 13-year-old Jairam Jagadeesh Hathwar shared the title of America's best spellers.  
"I'm just speechless," Janga said, according to a press release. "I can't say anything, I'm only in fifth grade."
After 25 head-to-head rounds, according to the BBC, the co-champs sealed the deal with words "Feldenkrais" (Hathwar) and "gesellschaft" (Janga).
Janga hails from Austin, Texas, where he is a fifth grader at River Ridge Elementary School. Other than having a knack for spelling words, he likes to play video games and football, according to his spelling bee biography. His favorite movie is, naturally, the spelling bee blockbuster Akeelah and the Bee, and he hopes to be a neurosurgeon someday.
Hathwar is from Painted Post, New York, and is in seventh grade at the Alternative School for Math and Science, according to his bio. In his spare time, Hathwar likes to stay updated on the elections. In the future, he wants to attend Harvard University and eventually become a physician. He follows in the footsteps of his brother Sriram, who was a co-winner in 2014.
ABC reported the two boys beat out 282 contestants to take home a $40,000 reward, $2,500 savings bond from Merriam-Webster, $400 of goods from Encyclopedia Britannica and, of course, a trophy.
Read more: These Spelling Bee Champions Can Teach Us an Important Lesson About Race in America
Correction: May 27, 2016