Israel Just Hosted Its First Transgender Beauty Pageant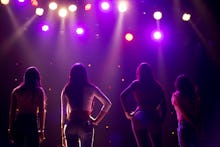 On Friday, 12 finalists will compete for the title of Miss Trans Israel in the country's first transgender beauty pageant.  
According to NBC News, the winner of the pageant will go on to compete in Miss Trans Star International in Barcelona, where she can vie for the grand prize of a $15,000 gender reassignment procedure. 
As 24-year-old Caroline Khouri rehearsed for the big night, she told NBC of the comfort she feels being among other trans women. She recalled how when she decided to make her transition, her family physically abused and starved her. 
"My cousins, my father, my brother-in-law all came and beat me and took me by force and cut my hair, tied me to the bed and left me there for three days with no food," Khouri said. 
Read more: How a Natural Hair Beauty Pageant Morphed Into a Platform for Female Entrepreneurs
But while the pageant is primarily a celebration of trans identity in the face of adversity, Khouri told NBC the event has also served to unite women of different religious backgrounds amid the political unrest that plagues Israel.
"Here I don't feel Muslim, Jewish, Christian," she said. "All of the people are together and the transsexual [people], they love together."
Pageant judge Efrat Tilma, who identified as one of the country's first openly trans women in the 1960s, added, "We can show the world that we are really for peace, this competition is for peace."