JK Rowling Just Confirmed 'Harry Potter and the Cursed Child' Will Make You Cry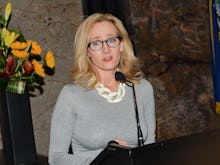 As if she hasn't broken our hearts enough by this point (whyyy, Fred, whyyy?!) Harry Potter author J.K. Rowling just hinted that the newest entry in the beloved series, Harry Potter and the Cursed Child, will be a tearjerker.
The newest installment in the Potter saga, a play, will also be released as a book in July. On Friday, a fan tweeted at the author to ask whether Harry Potter and the Cursed Child will make him cry.
Yes, Rowling confirmed. 
Unless you're a goddamn monster, there will be tears. 
Of course, that led another fan to ask Rowling why she feels the need to make us feel, well, so many feels.
And Rowling had the perfect response.
Picking up 19 years after the events of the seventh book, Harry Potter and the Cursed Child will follow Harry's son Albus Severus as he prepares for his first year at Hogwarts. Albus will be 11 in the story — the same age that Harry was when the whole series began.
Most of our beloved characters will likely make an appearance — but they're not kids anymore. Are you ready for grown-up versions of Neville, Ron, Hermione and Draco, sending their own children off to Hogwarts? We're getting a little choked up already ...