Internet Legend 7-Year-Old Audrey Is Going Viral for Her DGAF Style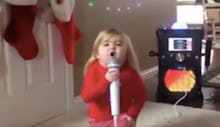 Seven-year-old Audrey Nethery has a rare bone marrow disease called Diamond Blackfan Anemia.
It limits her red blood cell count and thus inhibits physical growth — but it hasn't stopped her from embracing life.
She's using her passion for singing to spread awareness about the disease — and she's already raised $30,000 through viral videos of her jamming like a rockstar to upbeat hits like One Direction's "What Makes You Beautiful."
"I was inspired by Taylor Swift because she had all the passion and spirit and I just thought that I would start singing, maybe put a little passion and spirit in me," she told NBC Nightly News.
Watch Audrey sing her heart out and discuss her rare disease:
The video resonated with thousands of people in the internet. "This is so awesome!," one Facebook user wrote. "My son has Diamond Blackfan Anemia and it's so great to see it get some press! Let's hope this helps get funding for research"
"I know this disease," another added. "My 4-year-old granddaughter lost her battle with this rare disease. Prayers for healing."