High School Senior With Cancer Was Banned From Walking With His Class at Graduation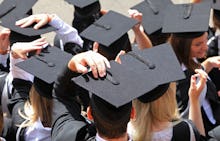 Stephen Dwyer, 18, had to take some time off from high school to undergo treatment for leukemia, including a bone marrow transplant, reported KPNX, but when he came back to Dobson High School in Mesa, Arizona, for his senior year, he seemed to be back on track.
Dwyer was elected student body president, maintained a 4.2 grade-point average in his first semester back and even joined the varsity swim team — but, at two and a half credits short of what he needed to get his diploma, Dwyer didn't meet the requirements to walk with his class at this week's graduation ceremony, KPNX reported.
In a Facebook post Thursday, Dwyer described his struggle with acute lymphoblastic leukemia — and his disappointment at not being able to graduate with the rest of his class:
"Students who are put in situations like mine are stranded on an island away from all the other normal teenagers," he wrote. "The fact that I am not allowed to walk with my class is again putting me on that island."
Dwyer's post was shared more than 2,000 times, but that wasn't enough to get his school to change their policy — and so he watched the ceremony from the bleachers. 
But after graduation was over, an undeterred Dwyer changed into a cap and gown and took photos with his family and friends anyways.
Read: This Harvard Grad's Powerful Commencement Speech Is Something Everyone Should Hear