How YouNow, the Most Accepting Place on the Internet, Keeps Its Community So Damn Nice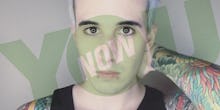 When Justin's broadcasting, it's casual. He doesn't really ever stare straight into the camera. He sits slouched, elbow on desk, forehead on palm, possibly flipping through tabs on his browser while intermittently answering questions from a stream of comments and singing along to the music playing in the background.
Justin reads aloud one question: "'Are all three of the Blake Boys trans?'"
The Blake Boys are Justin and his two brothers. Like many young vloggers, they began their online career on YouTube before finding a more welcoming home on the teen livestreaming site YouNow. Lately, Justin's been broadcasting on YouNow solo, explaining concepts like gender fluidity and pansexuality to an audience of roughly 4,500. 
"Two of us are," Justin answers. "One of us is gender fluid."
Casually, he elaborates: "Gender fluid means not everyone is like male or female — they kind of just flow through back and forth. Some days you feel more feminine, somedays you feel more masculine."
YouNow has become something of a haven of positivity and support for young people, especially those traditionally relegated to society's fringes. Despite catering to a large segment of young women (there are more women on YouNow than men), the community is virtually harassment-free — a true safe space on the internet.
In an era when the most popular platforms in the world have struggled to control the endless sexual harassment, rape threats, calls to "kill yourself" and even more dangerous attacks, YouNow seems to have cracked the code. It's time for the rest of the social web to catch up.
Users are empowered to create a positive space
Blocking is one of the key features on YouNow that protects its users. Users say that because they're empowered to weed out trolls, harassment is uncommon.
"It's very rare," says Frank Gioia, 22, of bullying on YouNow. Gioia's broadcast, CrankthatFrank, focuses on giving advice, especially to young people who are coming to terms with their sexual identity. He says it's easy to block users that rub him the wrong way. "It could be anything: 'ugly,' using 'gay' in a bad way, like in an insulting way," he said in a phone call.
Justin, the Blake Boy, tells his audience he doesn't hesitate to block people who "are really, like, stuck on the fact that I was 'born female.'"
That sense of community can be felt in the audience, too. Seasoned YouNow broadcasters seem to handle insults pretty expertly, either brushing off the occasional offense or reporting the comments that make them uncomfortable. In a show of further support, fans often come to the broadcaster's defense, calling out negativity as unwelcome.
But creating this environment isn't easy
YouNow CEO Adi Sideman says he's made keeping YouNow free of bullies and pornography a priority and a big area of investment. "We have a higher sense of responsibility because we have cameras in kids' bedrooms," he says. 
There are three tiers to the platform's anti-abuse system. First is community self-management: Anyone can block anyone, anyone can flag anyone.  
The second tier, Sideman says, is 24-hour-a-day, 7-day-a-week moderation by real adult humans. These people react to flags and use the platform's proprietary technology to suss out bad behavior on YouNow. The third component is a detection system for spotting nudity and offensive content.
"Nudity detection and parsing the chat in real time, in multiple languages, helps direct an auto-protect against any kind of problematic behavior," Sideman says.
The streaming site has strict policies on nudity. One afternoon, I watched a girl — self-described as "in high school and older than freshman" — wearing black shorts, hanging out with a friend in her living room. Her cast was hashtagged #dance, but she spent most of the cast chatting to the camera. One viewer called her out in the comments for being underdressed. "Someone flagged me for nudity," she said, then left the screen and came back wearing an oversized jacket. To be sure, I stumbled upon a few twerking casts, all fully clothed — but otherwise, I was hard-pressed to find anything even PG-13.
"Hey so pretty" and "nice athletic body" were among the most objectifying posts I saw in roughly 20 hours of watching, and "ugly af," "creepy" and "u can't dance" were the rudest.
What's the dark side of YouNow? Basically, stupid dares
YouNow encourages a type of game called "challenges." To host a challenge (a truth-or-dare-type game), broadcasters bring another user onto their cast, split-screen-style, and challenge them to a task. Challenges can be anything from breaking a DVD in half to picking up dog poop. The game is standard teenage fare, but in front of a large audience there's immense opportunity for kids to get peer-pressured into doing things they shouldn't or don't want to do.
In a recent livestream by YouNow broadcaster ItsMeGabe, commenters egged on a teenage girl to take the ice-and-salt challenge, where you pour salt in your hand and then clutch an ice cube until your skin burns. News reports say the ice challenge has caused some kids to develop third-degree burns. On YouNow, the girl seemed a little unsure of herself, but she wrapped a salty hand around a piece of ice until it burned. "Ow!" she said, dropping the cube and brushing off her hands, revealing a purple welt where the ice had been.
But sometimes trolls from other sites invade
The ability to "guest" other users — to bring them onto your stream — has led to another form of harassment: stream raids.    
First popularized on livestreaming site Twitch, stream raids happen when groups of people from forums like 4chan or RaidForum agree to tune in to a randomly chosen stream and bombard the comment section, harassing the streamer and propelling their cast into virality. 
There are telltale signs a raider has taken hold of a stream. Someone offscreen will begin talking, you'll strain to listen and just as you think you can make out what they're saying, the person off-camera will start screaming racial slurs until the bewildered broadcaster shuts down the guest stream. Other raiders prefer to spout anti-Semitic messaging.
There's no way to prevent a broadcaster from spouting hate speech. YouNow administrators are restricted to reactive measures, like banning accounts and shutting off streams. ("YouNow has automated tools that help detect and limit inappropriate conduct that does not fall in line with our Community Standards," Sideman said in an email.)
Bullying is pervasive on the social web
Twitter's inability to deal with harassment has driven a number of high-profile female users from its platform, and Facebook persistently fails to shield its users from bullying comments and racism.
Some streaming platforms take a "Don't like it? Don't watch it" stance on content. Periscope has a blanket disclaimer that reads, "You understand that by using Periscope, you may be exposed to Content that might be offensive, harmful, inaccurate or otherwise inappropriate."
Twitter, Facebook and Reddit do have tools to stem bullying — tools that are easy to circumvent. For instance, Twitter might cancel the account of an abusive user, only to have that user create another profile with a different email under which they can continue to troll. The ease with which one can create a new account on Twitter leads to a digital whack-a-mole problem. "I've noticed with blocking on Twitter, people get a satisfaction from that," says Gioia. "They just want a reaction from you."
These platforms struggle with offensive content as well. In April, Marina Lonina, a young teen from Columbus, Ohio, stood trial for livestreaming her friend's rape on Periscope. She is currently facing charges. On May 12, near Milwaukee, Wisconsin, students got in hot water with local police for streaming their threesome on Facebook Live. In Fort Myers, Florida, a school is investigating a sex act with more than two dozen students broadcast on Snapchat. Around the same time, a French teenager livestreamed her suicide.
News organizations often grapple with how to cover violent incidents that might inspire copycats or give the perpetrator the attention they're seeking. Now, social media platforms have inherited the question of whether to give voice to streamers who air harmful content.
Sideman says he made safety a priority because his platform largely appeals to kids — but all social platforms have kids on them. That fact doesn't seem to compel other networks to prioritize stringent protocols for keeping their communities safe, even if they admit they're aware of the problem.
Either way, the growing wisdom is that bullying needs to be tamed — even if it's at the expense of unfettered conversation. The good news is that it might be possible to beat the trolls if companies are willing to invest in the technology and manpower required. But if not, the kids on YouNow are content to stay there. "On YouNow, the community is very loving," Giola says. "Very supportive."