Pharma Bro Martin Shkreli Just Endorsed (You Guessed It) Donald Trump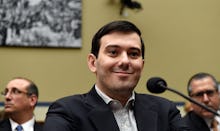 Former pharmaceutical executive Martin Shkreli has decided whom he wants to see win the White House in November: Donald Trump.
Shkreli, you may remember, is a man who once hiked the price of a life-saving drug by 5000%, was arrested by the FBI for "a securities fraud trifecta of lies, deceit and greed," bought Wu-Tang Clan's $2 million album and then embarked on a public campaign insulting one of its members, and whose ability to troll the public has earned him the moniker of the "most hated man in America."
Currently awaiting trial for securities fraud, Shkreli tweeted on Thursday that he supports Trump over likely Democratic nominee Hillary Clinton, and advised the real estate billionaire to find a vice presidential running mate "seasoned in politics," which he considers "an ugly game."
When Buzzfeed reporter Andrew Kaczynski asked Shkreli if he would accept an offer to serve as vice president, Shkreli said he would modestly decline:
Trump — no stranger to scamming the public in pursuit of profit — is unlikely to be considering Shkreli for veep. Last September he called Shkreli a "disgrace" and a "spoiled brat" for his decision to mark up the price of the drug Daraprim from $13.50 a pill to $750.
Shkreli initially responded to Trump's disparagement with a combination of anger and sadness: "Fuck him. And I thought we could be friends," Vanity Fair reported. But his affection for Trump, at least as an alternative to Clinton, seems to have returned. On Thursday he said that all those who don't feel similarly about Trump are "jealous, stupid and poor!"
Perhaps the biggest reason Trump shouldn't consider Shkreli as a running mate is because they're a bit too similar.