Justin Bieber Was Slammed With a Lawsuit Accusing Him of Stealing "Sorry" Vocal Riffs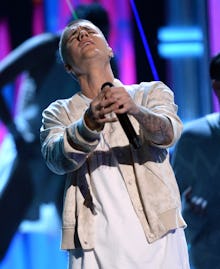 Unfortunately for Justin Bieber, a simple "sorry" probably won't hold up in a court of law. 
On Thursday, indie musician Casey Dienel, who goes by the stage name White Hinterland, accused the 22-year-old singer of ripping off the vocal loops from her song "Ring the Bell" for his hit single "Sorry."
"Creating original and unique music is my life's passion, but it is challenging and time consuming," Dienel wrote in a Facebook post. "I poured my blood, sweat, and tears into writing and producing 'Ring the Bell,' and I am proud of the finished product, which Rolling Stone listed as one of its 'favorite songs, albums, and videos.'" 
The singer said it was a "shock" to hear her work "used and exploited without permission."
Read more: Justin Bieber Speaks Out Against Award Show Culture Following Billboard Music Awards 
Indeed, an observant listener might find the faint "ooh-ooh, ooh-oohs" in the background of Dienel's track similar to those that punctuate Bieber's "Sorry." Still, Dienel said Bieber and his representatives didn't respond when she initially reached out to them about the alleged ripoff. 
In 2015, a U.S. appeals court ordered Bieber and Usher to face a $10 million copyright lawsuit when R&B singer De Rico accused them of cribbing everything from the time signature to the lyrics to the very name of the duo's 2010 song "Somebody to Love." According Digital Music News, last month Bieber was finally ordered to pony up the hefty sum after failing to appear for his court depositions. 
Deniel said she's sure Bieber won't go down without a fight. 
"Justin Bieber is the world's biggest artist, and I'm sure that he and his team will launch a full attack against me," she wrote. "But, in the end, I was left with no other option. I believe I have an obligation to stand up for my music and art."