Colton Haynes' Platinum Blonde Hair Is 'Teen Wolf' Star's Latest Thirst Trap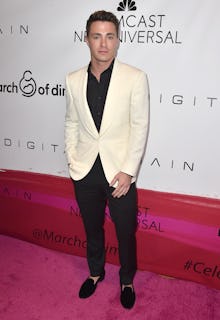 Actor Colton Haynes, of the popular Teen Wolf and Arrow series, now has blonde hair. And once again, the internet is collectively freaking out at the actor. Haynes, who officially announced that he was gay in a cover profile for Entertainment Weekly earlier this month, revealed to his 4 million-plus Instagram followers that he's sporting the new, platinum blonde look on Thursday. 
In response, Instagram commenters and the Twitterverse were absolutely on board with the new look. Comments ranged from "you can rock it" to "have mercy:"
And then there was the downright NSFW: 
Of course, this isn't Haynes' first time blowing up social media with a simple photo — even just this month. For what was the inaugural National Send a Nude Day, Haynes happily obliged with what appeared to be a clothes-less photo of the tanned actor, cat emojis strategically hiding the bits that can't be shown on Instagram, to the count of 50,000-plus likes in less than an hour. 
Whether or not social media's obsession with the actor is a bit much, what matters is Haynes' well-being. In his EW profile, in which Haynes details his coming out experience, he admitted he felt like he was acting "24 hours a day" by hiding his sexuality, and now feels great.
"It took me so long to get to this point, but I'm doing so good," he told EW. "I'm happier than I've ever been, and healthier than I've ever been, and that's what I care about."
Read more: Colton Haynes Nails Exactly What It's Like to Be Closeted