AIDS Activist Peter Staley Says He Feels "Used and Abused" by Bernie Sanders' Campaign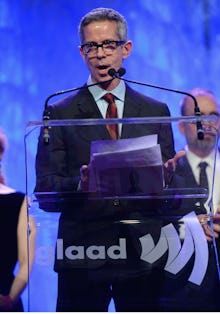 Prominent AIDS activist Peter Staley blasted the Bernie Sanders campaign, which he says "used and abused" him, after a meeting with AIDS activists. 
Sanders' campaign issued a press release after the meeting that Staley said misrepresented the meeting's proceedings. It emphasized Sanders' support for a ballot initiative in California proposed by AIDS Healthcare Foundation, the largest HIV/AIDS health care provider in the United States. 
In the release, Sanders said the initiative would lower the cost of drugs. But Staley wrote on Facebook that he and other activists asked Sanders not to support the initiative due to concerns it may raise barriers between HIV-positive people and drugs. 
At the end of his post, Staley asserted that the activists present do not stand with AHF, as Sanders' press release contends. 
"We did not endorse AHF's initiative," Staley wrote in all caps.
AIDS Healthcare Foundation is not very popular among AIDS activists — for several reasons. 
Among their gripes with the agency and its founder, Michael Weinstein, are its disavowal of PrEP as an effective HIV prevention strategy, activism they say flies in the face of science and fear-based stigma.  
Sanders' meeting comes only two weeks after AIDS activists met with Hillary Clinton in her Brooklyn headquarters. Staley was also present at the Clinton meeting. 
During the May 12 meeting, Clinton said that we must "rededicate ourselves to fighting HIV and AIDS," and proposed expanding availability to pre-exposure prophylaxis, capping out-of-pocket expenses and drug costs and eliminating HIV criminalization laws — laws that put HIV-positive people in jail for unfair reasons.
Current CDC projections estimate that half of black gay men and a quarter of Latino gay men will become HIV positive if the epidemic continues as is. 
While Clinton made several promises to fight HIV, no reports included whether she addressed her infamous gaffe praising Nancy Reagan for starting a national conversation on HIV — the opposite of what really happened. 
Peter Staley and Sanders' campaign did not immediately return requests for comment.