Anne Hathaway Doesn't Care What You Think About Her Post-Baby Body, Dammit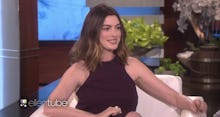 When it comes to celebrity post-baby bodies, most celebrities are expected to magically snap back into Hollywood-thin shape in just a few short weeks.
But what is it actually like to step back into the gym as a female celebrity who recently gave birth? Anne Hathaway gives us some clues. In a recent interview on The Ellen Degeneres Show, the actress opened up about her gym routine in the past eight weeks since giving birth to her son Jonathan in April.
"I went to the gym three times," Hathaway reveals. She then tells Degeneres that becoming a mom has made her feel "a lot more confident" — which sounds like a good quality to have, since she added that her West Hollywood gym is filled with insanely fit humans such as "Thor's trainer."
I would normally walk in and feel so intimidated. But [now] I walk in, and I'm like, 'Yeah, I work out with five-pound weights, but I pushed a baby out of my body so I feel good right now!' So I don't care what I look like, I feel great!
She wrapped up by sharing an anecdote about a trainer who offered her services to help lose the baby weight, at which point she said, "It's a little bit soon to worry about weight. I'm just trying to regain my strength."
Stating the obvious here, but: Hathaway's post-baby workout routine sounds awesome! Going to the gym three times in eight weeks? Yes, please. Sticking to the five-pounders? Yes, please. Not worrying about weight? Yes, please. Adopting this workout plan even having never given birth at all? Yes, please.
You can check out the full interview on Ellen's site.