Idaho High School Student Takes His Dying Mother to Prom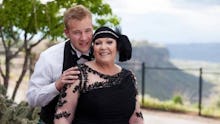 A 17-year-old Idaho teenager did something most high school students might be too embarrassed to do: He took his mother to prom. However, there was more going on than meets the eye.
Dylan Huffaker of Twin Falls, Idaho, took his mom Kerry Huffaker as his prom date after she was diagnosed with stage 4 brain cancer in February. 
Doctors have given Kerry Huffaker between nine and 20 months to live, local WCVB reported. 
"That was the most beautiful I think I've ever seen her," Dylan Huffaker told ABC News, reflecting on the big night.
"I thought about it, and I can look back after years and years and remember who I went to prom with," he said. "I'll know it was someone I loved who meant something to me."
The prom took place on April 30 in the gymnasium of Canyon Ridge High School, where mother and son shared a dance to Garth Brooks' "The Dance."
Read more: I Went Under the Sheets of New York's Professional Cuddling Industry — Here's What I Found